Wax On, Wax Off
Let's talk about waxing. It's the wonderful maintenance requirement we all love to hate! Waxing is a necessary evil but the lesser of two. Don't even say the word 'shave' in a salon; unless you're talking about your boyfriend's most recent hot towel or considering an undercut! Nobody wants to deal with that pesky body hair, especially during these gorgeous summer months. We got you, but let us give you some tips and tricks for making your waxing visit as pain free and long lasting as possible!
The Beginning
Before the wonder of waxing begins, you have to prep to ensure long lasting, supple and hair free skin!
Let that hair grow! We know it can be a pain but it is crucial and will ensure the best 'after' look! You want at least ¼' of hair for the best results.

Tanning causes skin sensitivity and can cause burns if you come in too soon after a tan!

Avoid caffeine and alcohol at least a few hours prior to your waxing service!

Exfoliate! Use a loofah or exfoliating scrub to rid your skin of dead cells and keep your skin healthy and avoid ingrown hairs. Shoot for 3 times a week!

Be mindful! Ladies, make sure you're aware of your cycle and avoid coming in three days prior to and after because you tend to be more sensitive during that window.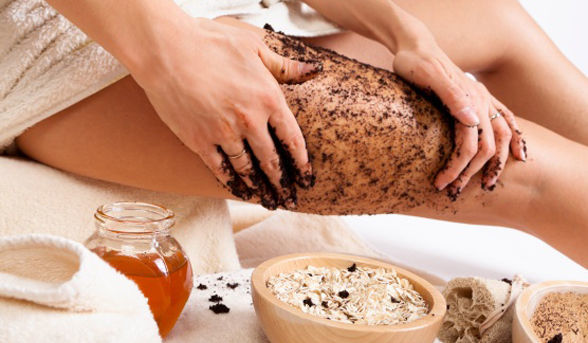 The Act
Make sure to relax and breathe during your visit! When you tense up, you'll cause yourself more pain. If you have a lower pain threshold, take an over the counter pain reliever like Tylenol or Advil to help. Please let your esthetician know if you are taking any mediation that may affect your waxing service. Relax, listen to the soothing music and breathe in the calming scents, like Davines NaturalTech DeStress Lotion around you. Our esthetician, Kenzie will take care of you and you'll do great!
Aftercare
Avoid sunbathing or exercise for at least 24 hours after your wax! Your skin needs time to rest and sweat and heat won't help!

Let your skin breathe! Wear some breathable and loose fitting clothing for the day.

Don't touch! We know you're excited about your smooth, hair free skin but the best way to avoid germs is being hands free and this will prevent irritation, pimples or infection.

Shower! Make sure when you wash up, you're showering, not bathing.

Avoid pools and saunas to keep any bacteria from entering your freshly waxed skin!
No lotions/moisturizers until the redness goes away and your skin is no longer feeling sensitive.

Resist the urge to shave between waxes! This will only make your next service more painful.

Exfoliate! Wait two full days after your service to exfoliate. This will keep your skin looking healthy and encourage your hair to grow up and avoid any ingrown hairs!

Use products like Tend Skin to promote healthy skin and keep pesky ingrown hairs away!
Now that you have soft, supple and hair free skin, it's time to take on the town! Capricio Salon and Spa offers an array of services to get you ready for your day, week or night out. What goes better with beautiful hair free skin then a bronzed glow? Two days after your waxing, visit us for a Norvell Venetian tan! Now that we have your skin looking amazing, let us handle those tresses!
Let us freshen up your locks with a little color and a haircut. Big plans for the weekend, let us style you! Don't forget to take care of those brows. We can tint and shape them for you during your visit. While you're at it, visit one of our lovely makeup artists for a fresh faced look for the day or evening out! We also offer lash extensions for a more extended and low maintenance look. We proudly carry Nova Lashes. Capricio Salon and Spa offers an array of services and we are here to treat you right! Make sure to follow us on Facebook, Instagram and Twitter to keep yourself up to date with trends, deals and giveaways.