Thank goodness for our makeup and lash obsessed generation! Lashes are in and they aren't going anywhere! They make your eyes POP and bring your look together for day or night looks. Capricio Salon & Spa's lash extension specialist, Brenda is here to get your lashes fleeky fresh! Ladies, don't forget to complete your look with anything from a simple, subtle look to dramatic, fashion-worthy makeup application. Our salon offers regular and airbrush makeup for your everyday look to runway ready! Read more about the different services we offer to get you looking GLAM.
Lash Extensions
Looking for voluminous, long lashes for day or night? Our lash specialist and makeup artist, Brenda is here to give you the look you want! The wonderful thing about lash extensions is that they are put on individually to cater to your lifestyle and wants. Our stylist uses SugarLash for extentions. We can give you extensions for everyday or something more dramatic for an evening feel! The extensions are applied to your existing lash, so that as your lashes grow out, your extensions will fall out naturally to avoid damage! With lash extensions, no mascara is needed and it cuts getting ready time in half. With proper care and maintenance, your extensions should last anywhere from 3 to 6 weeks, depending on the individual. We recommend lash fills every two to 4 weeks to keep that length and volume!

Lash Tint
Not crazy about lash extensions and still want to save yourself time? Lash tinting is the answer! Our stylists offer lash tinting for our clients that have light colored lashes or anyone that want a color boost. A simple and quick add on service while you're getting your hair done. We recommend getting tints every 6 to 8 weeks.
Brows
Shaping & Tinting
What goes perfect with those voluminous lashes? Brows, of course! Capricio Salon & Spa offers brow shaping and tinting for our clients. Our stylists offer brow waxing as well as threading. Just as important as those lashes, make sure your brows are shaped and filled! We're here to help keep you looking your best. Want to darken or make those brows stand out? Ask your stylist for a tint while you're at the shampoo bowl! This helps make the brows look fuller and really pop.
Airbrush vs Regular Makeup
Capricio Salon & Spa offers regular and airbrush makeup for any occasion. We have several clients that come in for a look for a day at the office or before date night! Have a photoshoot or runway show coming up? Our stylists can get you editorial ready! We also travel for weddings and shoots. Make sure to speak with your stylist about this service next time you're in. Capricio Salon & Spa offers airbrush makeup, in addition to traditional application. Airbrush makeup give you a flawless and light weight look that lasts! Speak with your stylist before getting started to see which application would work best for your event or special day.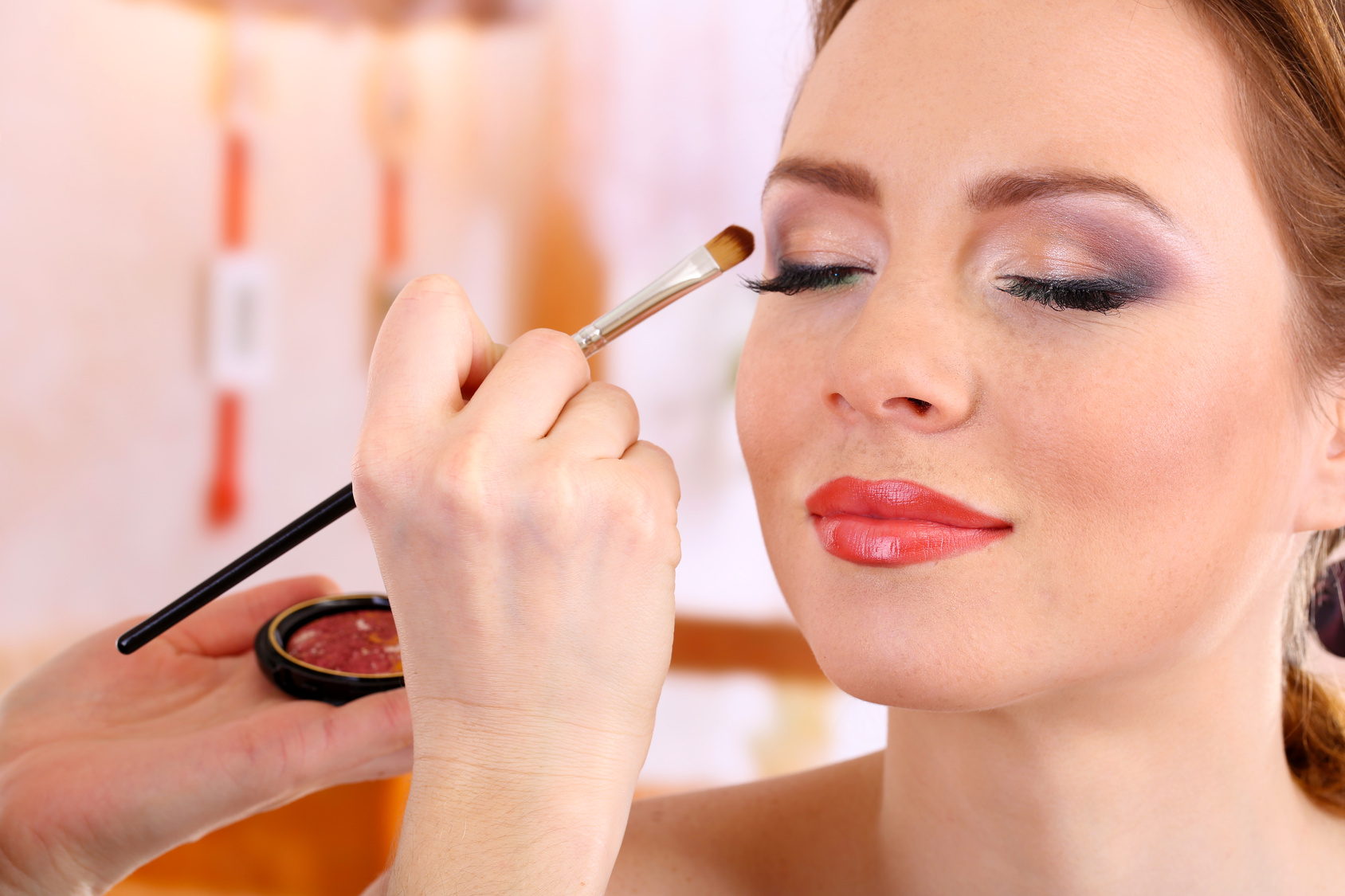 Weddings
We want to get you looking fabulous for your special day! Capricio Salon & Spa does weddings and we love them! Our stylists are here to give you flawless looking makeup and perfect hair style for you and your wedding party! Not getting married but know someone that is? Let us know! Any referrals that book their special day with us receive $100 gift card! Let us pamper you on that special day, with bagels and mimosas while our stylists get you glammed up. We suggest coming in for a free consultation so that you have a chance to meet with your stylist and talk about your wants and needs for the day of your wedding. We also highly recommend booking a makeup and hair trial so that we can work with you and make any adjustments for the day of!
Hair Extensions
Capricio Salon & Spa offers a variety of services to get you looking fabulous! In addition to lash extensions, we have three hair extension specialists at the salon. Our extension experts at the salon, Owner and Master stylist, Munem and stylist Loren love extensions! Our stylists work with Tony Odisho, Cinderella and Hair Dreams hair. Make sure to book your free consultation so you can meet with your stylist and they can determine your hair needs, color match you and make recommendations! The wonderful thing about extensions is the impermanence! Clients can come in to get extensions specifically for an event and have them taken out afterwards with little to no damage to the hair. Others come in for the longevity that extensions have, because of the length and volume our extensions offer. We also recommend using Moroccan Oil in your hair to keep it healthy and shiny. They are such a fun hair accessory to work with because of the versatility they bring to each individual client!
Airbrush Tanning
You want glowing and flawless skin to go with those perfect lashes, brows and extensions, right?! Our salon offers airbrush tanning! Airbrush tanning is a must, no matter the time of year! Everyone wants glowing skin without that pesky UV damage beds create. Sugar beets and DHA, an FDA approved solution, is the smartest way to sun your skin before your big day or any day. Our salon offers airbrush tanning by Norvell, the simplest and safest way to get that sexy summer glow for the beach! Our airbrush tans last around 10 days with proper skin care! We recommend Davines oil to keep your skin supple and smooth all year long. Make sure to exfoliate well before your airbrush session to maintain the tan and keep it looking fresh!
Waxing
What goes perfect with that sun kissed skin? A bikini wax, of course! Nothing is worse than stressing about how you look in a bikini during your big event. No one should be self-conscious about body hair when they're trying to enjoy their special day. Conveniently located on Milwaukee's Eastside and just a short way from Downtown, we can fit you in before your coffee run, during your lunch break or after work!
Capricio Salon and Spa also offers: Redken hair color and highlights, our salon is leading in the city for new trends in ombre and balayage coloring. Haircuts, Brazilian Blowouts, keratin and Japanese relaxers! Capricio Salon and Spa has everything you need to get you gorgeous and ready for the week, night or special occasion!
Don't forget to follow us on Facebook, Instagram and Twitter and keep up to date with us, what's trending, promotions and giveaways! We love treating our clients and followers to nice things so make sure to like, follow and share so we can give you the spa treatment outside of the salon too!